Karen Kilgariff // My Favorite Murder Pop Culture Prayer Candle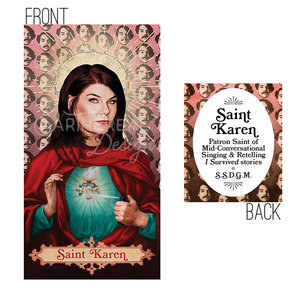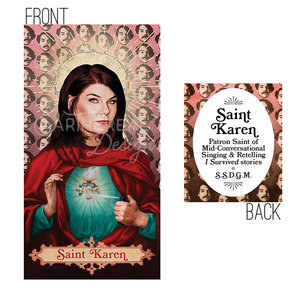 Karen Kilgariff // My Favorite Murder Pop Culture Prayer Candle
Listen. Here's the thing. This candle is perfect for the Murderino in your life.
This 7 day candle features the queen of sardonic wit and wisdom, Karen Kilgariff, surrounded by mini STEVENs! and spraying some pepper spray (you know, ask questions later).
The affirmation on the back of the candle says:
Saint Karen
Patron saint of mid-conversational singing and retelling I Survived stories
S.S.D.G.M.
Additional stuff you might wanna know:
• The watermark on the picture shown will not be printed on your candle.
• The dimensions of the candle are 8 inches tall and 7 inch circumference, approximately 2 inch diameter.
• Default candle is white and unscented.
• Custom designs can be made!
• Domestic shipping is done via Priority Mail.
• Colors can vary computer to computer and printer to printer. I do my best to make sure the photo shown on the listing is as accurate as possible. Please take this into consideration before purchasing the product.